ABOUT US
DAI is a fellowship of leader developers passionate about helping Christian leaders grow and have a transformative impact in their communities.
Overview
UK Staff
History
FAQ
WHO WE ARE
DAI's approach is to listen first, research the real needs of leaders, design tools that respond to those needs effectively and begin putting in place an indigenous distribution system to enable leaders to access those tools. Every course DAI has written came about this way including the popular Master of Arts in Organizational Leadership (MAOL) program that currently has over 1,000 students enrolled. Local Christian leaders grow in their integrity and effectiveness through ongoing training, mentoring, consulting and being connected to other critical resources. DAI's programmes continue to grow and evolve as new needs are identified or needs change.
OUR UNIQUE STRENGTHS
DAI has become an effective agent in leadership development through a unique set of strengths: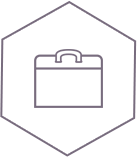 Key Indigenous Leaders
direct and staff local programs, contextualize the training, and create locally relevant programs.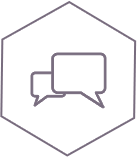 Interactive Methodology
enables transformation and builds problem solving skills.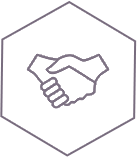 Commitment to Relational
Long-term Ministry
enables transformation and culture change through regular interaction over time.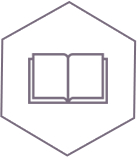 Leadership and Management
from a Biblical Perspective
focused on how to manage people, money and organizations in a way that is pleasing to God.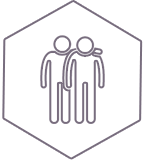 Humility in our Approach
which means not coming with all the answers, but rather coming alongside to help leaders find God's unique answers in their context.
DAI has 18 Ministry Centres with full-time staff focused on serving their area's needs. We currently work in over 70 countries which we have organized into nine regions – East Africa, West Africa, Francophone Africa, Central Asia/Europe, East Asia, South Asia, Latin America, Middle East/North Africa and North America.
Mission
Enhancing the integrity and effectiveness of Christian leaders worldwide so that the Church can fulfill its role in extending the Kingdom of God.
Core Values
Committed to effectiveness, integrity humility, partnering, mentoring, holism, biblical standards and to reaching those with the least access.
UK Staff
John Rogers
CEO & Senior Consultant for Non-Formal Training & Adult Education

John serves half-time with DAI. He joined the DAI team in January 2006 when his major responsibilities included the development of new materials for the training of DAI's staff and volunteer trainers. He has since written the MA Course modules on "Teaching and Learning for Ministry", "Partnership" and Fundraising". He has also written the "Facilitating Learning" and the "Fundraising in Ministry" Workshops in the non-formal Workshop programme and co-written a major revision of the "Servant Leadership Workshop. He regularly teaches Courses in DAI's MA Programme and has worked with groups in Uganda, Burundi, Nigeria, Nepal, Sri Lanka and India. Before joining DAI, John worked in the adult education sector in the UK, in leadership roles overseas with Feba Radio and, in the UK, with both the Langham Partnership and as an international trainer working in Africa, Asia, Europe and North America with Interdev.
Trustees
Robin Willison
Chairman

Robin has worked as a senior leader in a large bank and in a fast growing mutual organisation during a career spanning over 30 years. He believes passionately in leadership development at all levels as the key ingredient of sustainable success in any organisation or group. He has also been involved as a trustee and volunteer in a number of youth related organisations as well as acting as a School Governor. Robin has been married to Anna for over 30 years and they are proud parents of three daughters and a son and now grandparents to 6 grandchildren. Perhaps then, it's not surprising that Robin used a recent break from work to write a book about being a Dad!

John Flewitt
Vice-Chair & Company Secretary

John has recently retired as a partner of a regional accountancy firm to take up non-executive Board appointments and concentrate on the 'more important things' including some adventurous hobbies. John is married with grown-up children and one grandchild and is an active member (and Trustee) of the Coign Church, Woking. He has been involved with Christian camps for over 35 years and is involved with a number of other charities providing financial advice and consultancy.

Peter Nevins
Trustee

Peter is an ordained Deacon in the Church of England, Guildford Diocese serving as Curate at St. Paul's Church, Dorking. His undergraduate and graduate theological education took place in the contexts of multi-ethnic, cross-cultural ministry and leadership with a view toward reconciliation and justice. Peter has worked this out through participation in various projects in the US, UK, Japan, Mexico, Uganda, Burundi, Israel/Palestine and Iraq, and is passionate about DAI's purpose to see indigenous leaders trained and equipped to more effectively serve, lead and bless their communities.

Ian Derbyshire
Trustee

Ian has been working in the international development sector for the past 10 years, initially with Tearfund, then with World Vision in Uganda and now back in the UK with Practical Action. He has a heart to see Christian leaders equipped to fulfil their potential and make a lasting difference in their communities

Phil Simpson
Trustee

Phil is an Anglican priest (SSM) attached to Christchurch Woking and involved in running a FreshExpression of Church called holy::ground. He worked with CMS for 25 years as a Mission Partner in Pakistan and then as Regional Director, travelling widely in Europe, the Middle East and Asia. He is now an independent Mission Consultant offering organisational consultancy and leadership mentoring to a wide range of groups in the 3rd Sector. He is married with 4 grown up children, all of whom have caught his travel bug.
Other Staff & Volunteers
Elizabeth Sanders
Accountant

After many years working in a broad range of different industries and sectors, Elizabeth, a Chartered Management Accountant, now runs her own company. Her passion is to provide pro-active management accounting support to Small & Medium Sized Enterprises (SMEs), helping people and businesses to succeed.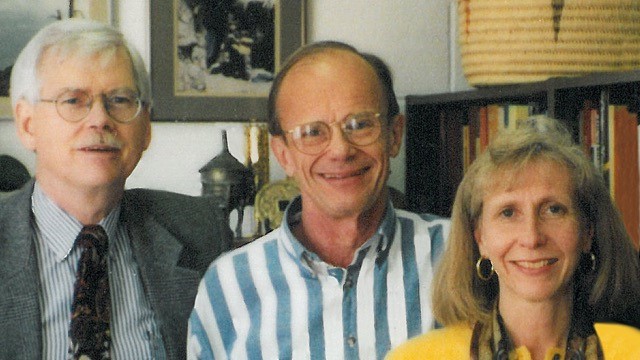 Dr. David Fraser, Dr. Jim Engel and Jane Overstreet in 1996
BRIEF HISTORY
In 1990, two distinguished professors believed they could make a difference in the lives and ministries of key leaders in the majority world. They founded 'The Center for Organizational Excellence' at Eastern College in the USA with the dream to enhance the integrity and effectiveness of Christian leaders worldwide.
Dr. James F. Engel taught at Wheaton College for 18 years. Beside a highly successful secular career in marketing research, he served as a trainer and consultant to over 250 Christian organizations in 60 countries.
Dr. David Fraser gained significant exposure to leaders at the grass roots level, serving as a member of the senior staff of World Vision International with responsibilities for 'Unreached Peoples'. He had also served with the Mission Training and Resource Center for three years helping to develop curriculum.
Together the two undertook nearly three years of research in various countries to identify key areas of need to be addressed if Christian leaders in the majority world were to become effective and positively impact their communities. Over the next five years the curriculum was created, field-tested and refined. It became clear that interactive, story-based learning focused on asking questions and requiring application enabled leaders to change. Staff and volunteers with expertise in the most critical fields were recruited and the ministry began to expand. In 1996 the organization was incorporated in the USA to enable growth and the name changed to Development Associates International (DAI).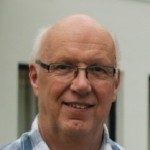 DAI UK was registered as a Company Limited by Guarantee in April 2006 and as UK Registered Charity in June of the same year. A Board Of Trustees was formed and, having worked for the parent organisation on a number of curriculum-writing projects, John Rogers (pictured right) became the first employee of DAI UK. He was both Chief Executive and Senior Consultant For Adult Education. His day-to-day focus was on the development of new curriculum for both DAI's MA in Organizational Leadership and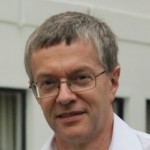 DAI's non-formal Workshop programme.
Responsibility for curriculum development, principally in the Workshop programme, was formalised in January 2014, with the appointment of Colin Rye (pictured left) as Chief Executive and Senior Consultant For Curriculum Development and remains DAI UK's primary responsibility and service to the global organization.
FREQUENTLY ASKED QUESTIONS
Below we've answered the most common questions we get about DAI. If you have a question that is not addressed here, please feel free to contact us.
What is DAI's Mission and Vision?
DAI's Mission is to enhance the integrity and effectiveness of Christian leaders worldwide, so that the Church can fulfill its role in extending the Kingdom of God.
We are committed to effectiveness, integrity, humility, partnering, mentoring, holism, biblical standards, and reaching those with the least access.
This is done through four areas of ministry: educating, consulting, mentoring and connecting.
How does DAI choose which countries to work in?
DAI begins work in a country where several factors are in place.  The most important one is that local senior leaders have become familiar with what DAI has to offer and believe it is needed and have invited us.  It also needs to be a country that fits our core values, in other words a place with little access to what DAI offers.  We also need capacity to respond to this invitation.  This includes the funding required, the people who can offer the training locally and curriculum available in the local language.  If all of these factors are not in place we pray and ask God to provide them.  Then, once all the pieces are there we believe this is confirmation that this is a place God has called us and we respond.
Why does DAI choose to focus on indigenous leadership development?
The Church is growing rapidly across the Majority World, through the efforts of evangelists and church planters. Yet this young church is trying to reach maturity and impact their communities in the midst of countries where disease, civil unrest, natural disasters and poverty abound. Effective leadership is a challenge for anyone, let alone a believer who lacks access to relevant training. Indigenous leadership development enables these leaders to be better equipped to respond within their context and be more effective in their ministries.
What makes DAI different from other leadership development organizations?
DAI has become an effective agent in leadership development through a unique set of strengths:
Key indigenous leaders direct and staff local programs, contextualize the training, and create locally relevant programs
Interactive methodology enables transformation and builds problem solving skills
Commitment to relational long-term ministry enables transformation and culture change through regular interaction over time
Leadership and management from a biblical perspective focused on how to manage people, money and organizations in a way that is pleasing to God
Humility – not coming with all the answers, but rather coming alongside to help leaders find God's unique answers in their context
Is DAI affiliated with any denomination or church?
DAI is a non-denominational organization and is not affiliated with any single church.
Where does DAI get its funding?
DAI is a faith ministry, relying on God to provide for our needs. We are incredibly grateful that He has led a number of individuals, churches and foundations to partner with us through their gifts. Most of our staff raise personal support to help provide the income they need for their salaries and ministry projects. However, we also believe that people put a greater value on services for which they pay so students always pay a minimal local fee for our programs.
How can I support DAI's ministry financially?
You can support DAI's work financially, via DAI UK, by means of one-off or regular donations made online, by bank transfer, by cheque or by (Bankers) Standing Order. Please visit our Donate page for more details.
I am a UK tax-payer; can DAI claim Gift Aid on my donations?
If you are a UK tax-payer, satisfy HM Revenue & Customs conditions for Gift Aid and have completed our Gift Aid Declaration, DAI UK can reclaim the tax (25p for every £1) you have paid on your gift. If you donate via the website you can complete an online Gift Aid Declaration as part of the CAF (Charities Aid Foundation) process. If you send a cheque or a Standing Order form by post, please include a signed Gift Aid Declaration.
Will I receive a receipt for my donations?
At the end of the UK tax year, we will send you a Statement detailing your donations. If you are a UK tax-payer and have completed a Gift Aid Declaration, the Statement will detail the additional value of our Gift Aid claim; this may be helpful if you are required to complete a Self Assessment Tax Return. If you require a receipt for donation(s) at any other time please contact us.
Are donations that I make tax-deductible?
If you pay Income Tax at the higher or additional rate and want to receive the additional tax relief due to you, you must include all your Gift Aid donations on your Self Assessment Tax Return or ask HM Revenue & Customs to adjust your tax code.
Donations are used to pay for the ministry activities of the organization, according to the budget approved by the Board of Trustees, to help DAI fulfill its mission. Any donation to DAI specifically designated by the donor for the ministry of specific individuals associated with DAI or a specific DAI project is honoured with no deduction made for any administrative costs incurred.
What financial accountability do you have?
DAI UK staff manage the ministry work of DAI in the UK but an independent Board of Trustees oversees it. The Board annually hires an Independent Examiner to examine DAI UK's accounts. Once examined, and approved by the Board of Trustees, the Trustees Annual Report & Unaudited Financial Statements are filed with both the Charity Commission and Companies House in accordance with UK legislation. You can review recent years' DAI UK Annual Reports online.
What is DAI's Privacy Policy?
Does DAI offer overseas mission trips?
Does DAI need volunteers?
Yes, definitely! If you are interested in volunteering, please visit our Opportunities page first. If any of the roles seem appropriate, please then contact us.